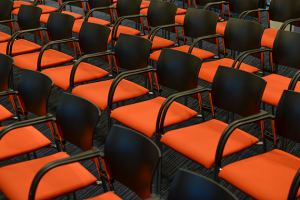 In today's shifting healthcare climate, it's critical for marketers to create authentic connections with patients. One of the most powerful ways to engage healthcare consumers is through event marketing.
In fact, 80% of marketers believe live events are critical to their company's success, according to event technology company Bizzabo. Perhaps this is why more than half of marketers (63%) plan on investing more in event marketing in the future.
Is your healthcare company investing in event marketing? If not, here are three good reasons you should be:
1. Communicate face-to-face with patients.
As healthcare marketers, we face a unique challenge: We must communicate complex information to consumers in a compelling and memorable way. It can be darn near impossible to achieve this through traditional marketing strategies. However, event marketing allows hospitals, physicians and other healthcare providers to engage in one-on-one conversations with patients.
Also known as experiential marketing (XM), event marketing a nontraditional approach that builds direct connections with customers. It's all about creating a memorable event or experience that sticks with your audience and boosts brand loyalty. Through interactive events, healthcare marketers can transform boring messages into a memorable experience for patients.
2. Win over new customers.
Not only does event marketing help consumers better understand your offerings—these experiences also build consumer loyalty.
"These live experiences connect consumers to brands in a personal and purposeful way," explains Sue Duris, Director of Marketing and Customer Experience for M4 Communications. "Customer experience and experiential marketing converge in the creation of dynamic, rich, and emotional connections with consumers that can generate brand loyalty."
To top it off, customers are drawn to brands that offer events. According to a 2016 report on experiential marketing, 72 percent of consumers view brands who offer quality events in a positive light. They also say they are more likely to make a purchase after attending an event.
3. Drive social media interaction.
Event marketing can also fuel social media engagement. After all, a healthcare marketing event will provide you with endless material for your social media platforms—interactive content you can share before, during and after the event.
Before the big day, generate excitement by posting information about the upcoming event. This is an opportunity to offer discounts and prizes to social media followers—anything to give them extra incentive to attend the event in-person. During the event, you can share stats, quotes or even live stream from the venue. After the event is over, now's your chance to share event photos and highlights on your page.
Through all of this social media engagement, not only will you build excitement with your current followers; you'll also attract new followers.
These are just a few of the advantages of event marketing, but the benefits are practically endless. While the ROI for these events varies, the numbers are favorable. About half of brands say they see a return between three and five times the amount they invest in live events. Plus, the vast majority of companies say these events result in lead generation, sales and customer loyalty—making event marketing well worth the expense.
Ready to tap into the power of event marketing? IHM can help! Contact us today for more information.